It's time for crab talk! This versatile shellfish is d'lish all around, and here in the Northwest, we love our Dungeness Crab!
Now you've probably noticed that some crab eaters are pickers and some are pilers. The former pick and eat as they go – while the latter make a pile of shelled crab, not even tasting a single morsel until they have a good-sized mound. So which one are you: a picker or a piler?
Fresh, right out of the shell is still my favorite way to eat this prized catch but it is also amazing made into a big crab louie salad, oooooh and don't forget how amazing crab cakes or the ever popular artichoke and crab dips are too.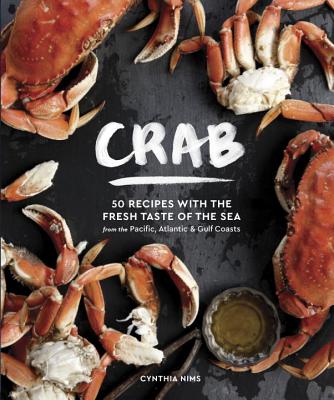 If you're looking for new ways to cook up this crustacean, look no further than local author and seafood guru ' new book Crab: 50 Recipes with the Fresh Taste of the SeaCynthia Nims! It is chock-full of tips like how to buy and store crab, what to drink with crab, and local history and lore. Plus, it has delicious recipes to try like her savory Sourdough Bread Pudding with Crab (recipe below); now that sounds like a perfect holiday brunch dish to me! Want to learn more about crab? Then be sure to check out Cynthia's website for crab filled events, including book signings and crab cooking classes!

Photo by Cynthia Nims.
For a d'lish appetizer for any holiday entertaining, try my Warm Crab, Mushroom & Brie Dip with Fresh Thyme & Sea Salt Crostini, rich and d'lish! So get cracking and enjoy some delicious crab this season! -Kathy
Sourdough Bread Pudding with Crab
Bread pudding shows up in a lot of guises these days, making an appearance here at the breakfast table with tangy sourdough bread holding sweet crabmeat in an herby custard. Feel free to use a non-sourdough bread if you prefer. – Cynthia Nims
Makes 8 Servings
Crab: any cooked crabmeat
Unsalted butter, for buttering
1 small loaf day-old rustic sourdough bread (about 1 pound), cut into 1⁄2-inch cubes, divided
2 cups grated sharp cheddar cheese (about 8 ounces), divided
1⁄2 cup minced onion
8 to 12 ounces crabmeat
8 large eggs
3 cups whole milk
2 Tbsp. minced fresh at-leaf (Italian) parsley
1 Tbsp. minced fresh chives
Kosher salt and freshly ground black pepper
Preheat the oven to 350 degrees F. Generously butter a 9-by-13-inch baking dish.
Scatter about half of the bread cubes evenly in the baking dish, and sprinkle 1 1/2 cups of the cheese over the bread, followed by the onion. Pick over the crab meat to remove any bits of shell or cartilage. If using king or snow crab leg meat, cut it into small dice. Scatter the crab over the onion, then top the crab with the remaining bread cubes.
In a medium bowl, whisk the eggs to blend, then whisk in the milk, parsley, and chives with a good pinch each of salt and pepper. Pour the egg mixture over the bread and let sit for about 10 minutes, pressing the cubes down so they evenly soak up the custard.
Sprinkle the remaining ½ cup cheese over the top and bake the bread pudding until the top is lightly browned and a knife inserted in the center of the dish comes out clean, about 45 minutes. If the top is well browned before the eggy custard is cooked, loosely cover the dish with a piece of foil. Let the bread pudding sit for a few minutes before cutting it into pieces to serve.
Recipe ©2016 By Cynthia Nims. All rights reserved. Excerpted from Crab: 50 Recipes with the Fresh Taste of the Sea by permission of Sasquatch Books.
Warm Crab, Mushroom & Brie Dip with Fresh Thyme & Sea Salt Crostini
Makes about 6 cups — serves about 12 – 24 people
Dip can be prepared up to 2 days in advance if using very fresh crab and baked when your guests are just starting to arrive. Easy to make Fresh Thyme & Sea Salt Crostini bake at the same oven temperature to make things easy!
1 small (8 oz wt.) wheel brie cheese
——————————————
2 tsp. olive oil
1 cup thinly sliced onion
2 cups thinly sliced crimini mushrooms
2 tsp. minced fresh garlic
1/2 cup dry sherry
——————————————-
1 1/2 cups mayonnaise (Note: do not use reduced-fat or fat-free, I like to use Best Foods in this recipe)
3 cups (about 10 oz. wt.) shredded, high-quality parmesan cheese
1/2 tsp. Tabasco
1 Tbsp. fresh lemon juice
1/2 cup thinly sliced green onion
1/4 cup minced sweet red bell pepper (optional)
1/2 cup minced celery
3/4 pound shelled crab meat, (such as Dungeness or try Alaska King) drained well (about 2 1/2 cups drained), see note above
Garnish: Minced fresh parsley
Fresh Thyme & Sea Salt Crostini (recipe follows)
Cut the brie cheese into 1/2" pieces, set aside and then let come to room temperature.
Meanwhile, heat the oil in a skillet over medium-high heat. Add the onions and cook stirring often till half cooked, about 4 minutes. Add the mushrooms and continue cooking until the onions are very soft and the mushrooms are tender, about 4 minutes.
Then add the garlic and sherry and continue cooking until the sherry is completely reduced about 8 minutes. (There should not be any liquid left.) Set aside to cool.
Place the room temperature brie in a mixer with a paddle attachment. Mix on medium-high speed for about 1 minute or until the cheese softened. Scrape down the sides of the bowl then add half of the mayonnaise. Mix for 3 more minutes on medium-high speed. Add the remaining mayonnaise, parmesan, Tabasco and lemon juice. Mix together on medium speed until well mixed, about 1 minute.
Remove bowl from mixer and fold-in the cooled mushroom mixture, green onion, pepper, celery and crab meat – being careful not to break up the crab meat. Do not over mix.
Place dip in a 7-inch x 11-inch baking dish, or 2 quart or ovenproof serving dish. Smooth out but do not compact it. (Dip can be covered and refrigerated up to 1 day at this point.)
When ready to serve dip, place in a 400-degree F. pre-heated oven. Bake for about 15 – 20 minutes or until dip just starts to bubble around the edges, is heated through and the cheese is melted. (Be careful not to overcook) If desired, sprinkle with minced fresh parsley. Serve immediately with Fresh Thyme & Sea Salt Crostini, or rustic flat bread or crackers.
Fresh Thyme & Sea Salt Crostini
Crostini are the must-have party basic. Use as a base for assorted toppers, such as creamy cheeses, tapenade, or spreads.
Makes 24 – 32 pieces
1 baguette
3 Tbsp. olive oil
2 tsp. minced fresh thyme
1 tsp. minced fresh garlic
1/2 tsp. sea salt
Pre-heat an oven to 400 degrees F.
Cut the baguette with a serrated knife into 1/4-inch diagonal slices. Lay out on a baking sheet pan.
In a small bowl, mix together the oil, thyme and garlic. Lightly brush the baguette slices with the herb oil, then sprinkle with salt. Bake for about 10 – 15 minutes, or until just crispy.
Recipe by Kathy Casey Food Studios® – www.KathyCasey.com