Ah, coleslaw – the picnic staple. How do you like it: sweet and tangy, vinaigrette-style, or creamy? Everyone has a favorite.
It's a great counterpart to a multitude of dishes, whether cozied up next to classic fried chicken or riding shotgun next to barbecue ribs. It's also tasty tucked into a sandwich or atop tacos.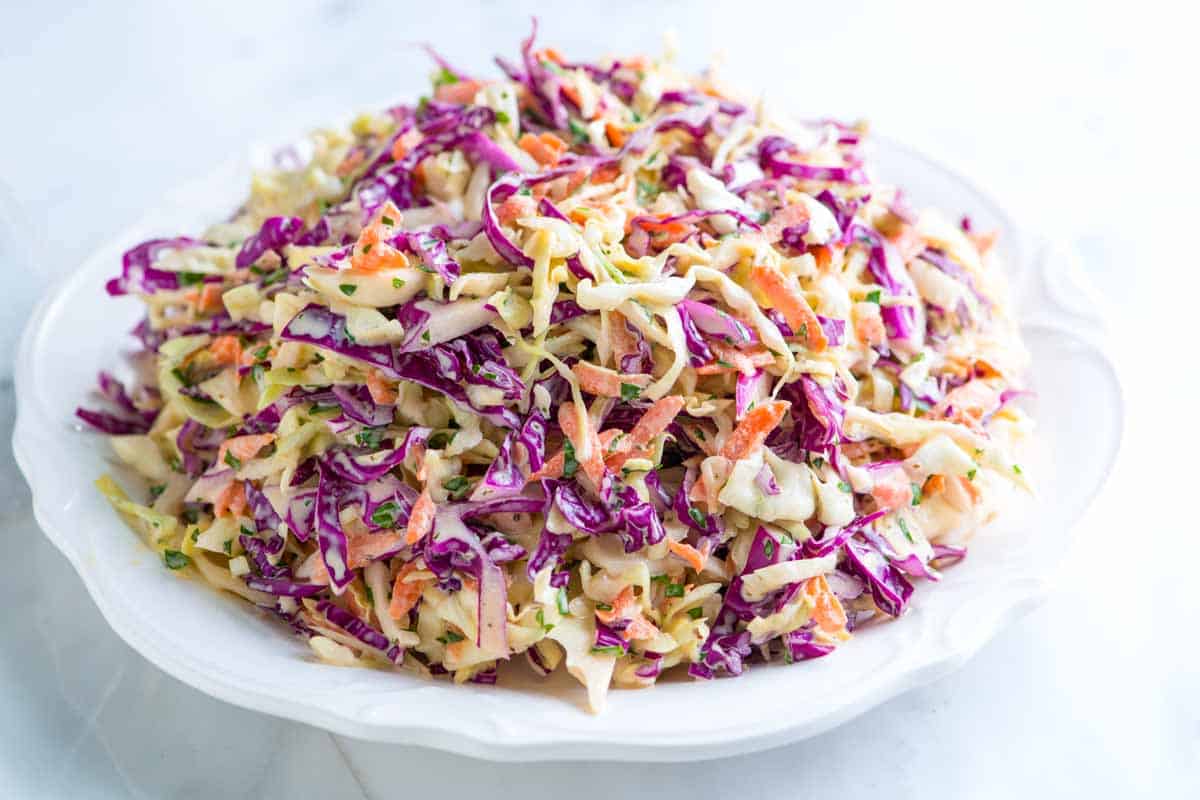 Photo from Inspired Taste
These days slaws are showing up made with a variety of cabbages from brilliant red to tender Nappa. Not only tasty in coleslaw, cabbage is healthy for you. It boosts your intake of vitamin C and other nutrients, and definitely adds some good roughage to your diet.
Changing up your slaw ingredients can be fun and oh-so-tasty! Try savory savoy cabbage mixed with a sweet-and-tangy vinegar-based dressing, toasted sesame seeds and green onions. Or spike traditional mayo-based coleslaw dressing with zingy horseradish and toss in some dried cranberries for a sweet counterpart.
But I love a cooked thickened dressing. Why? Well you know sometimes when you dress your slaw it gets kind of weepy and then bland. Well a cooked and thickened dressing takes care of that as it stays coated to the cabbage. Just thicken a simmering vinegar and sugar mixture with a little cornstarch, cool, and then add into mayo with your seasonings.
So shake up your standard slaw and try my Poppy Seed Pineapple Slaw recipe for a twist on an old favorite – perfect for your next summer BBQ! –Kathy
Poppy Seed & Pineapple Coleslaw
Makes 6 cups
1 (8 oz.) can crushed pineapple with juice
1/2 tsp. salt
tiny pinch red pepper flakes
1 tsp. finely minced fresh ginger (optional)
1/3 cup cider vinegar
3 Tbsp. sugar
1 Tbsp. cornstarch
1 (1 lb. ) bag coleslaw greens or 8 cups of mixed shredded green and red cabbage
4 green onions, thinly sliced
1 large carrot, grated
1 1/2 tsp. poppy seeds
1/4 cup light or regular mayonnaise
In a small saucepan combine the crushed pineapple with juice, salt, red pepper flakes, ginger, vinegar, sugar and cornstarch. Whisk together well until the cornstarch is dissolved. Place over medium-high heat and bring to a boil while constantly stirring; cook until dressing is thickened. Remove from heat and let cool to room temperature.
Place coleslaw greens, green onion, carrot and poppy seeds in a large bowl. Stir mayonnaise into cooled pineapple mixture, then mix into coleslaw, coating salad well.
Recipe by Kathy Casey Food Studios® – www.KathyCasey.com