Here in the Pacific Northwest, we sure love our ciders! From restaurant menus to pubs to the grocery store shelves, ciders are everywhere these days. There is even a new magazine called CIDERCRAFT devoted to all things cider from reviews to cider-based cocktails.

The website is still being developed
but check out their Twitter @CidercraftMag for hard cider news!
From apple to cherry and pear to even chai, there are a lot of varieties to choose from. And with Thanksgiving coming, consider serving a hard cider with your holiday bird. Serving a dryer-style apple cider is a great alternative to white wine.
Dryer ciders can be reminiscent of sparkling wine and makes for a tasty alternative to traditional bubbly. Perfect for a special toast or in your favorite champagne cocktail!
One of my favorite recipes for a Spiced and Spiked Cider Sangria I created for an upcoming issue of CIDERCRAFT magazine combines the flavors of blood oranges, cinnamon, ginger, tequila, and cider to make a great crowd-pleasing punch!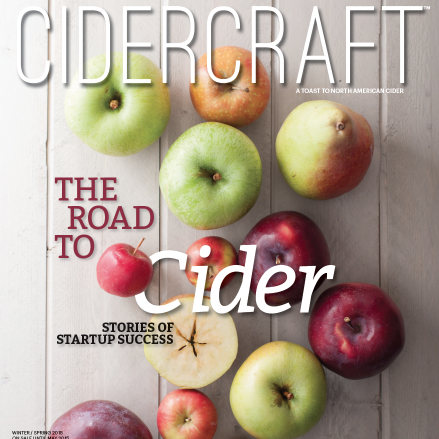 Make sure to get a copy of the latest issue for this tasty recipe!
Another favorite cider-inspired signature is the Ruby Rum Cider Cocktail. Rich Bacardi 8 rum, fresh squeezed ruby grapefruit, pomegranate juice and Schilling & Company's Chai Cider combine for a tasty fall cocktail.
And for a fun party idea how about a cider tasting, ask your guests to each bring a different cider. Put a brown bag over each one and tie at the top. Before pouring, give each guest 3 ribbons to hang around the top of their favorites, taste, and then unveil to crown the cider winners.
Cheers to sipping some cider! -Kathy

Photo by Kathy Casey Liquid Kitchen®
Ruby Rum Cider Cocktail
This cider's warm spice notes play well with the rich flavor of Bacardi 8 rum and the tang of fresh grapefruit and pomegranate. For a crowd make a large batch by just switching the measurements from ounces to cups!
Makes 1 cocktail
1 1/2 oz Bacardi 8 rum
1 oz fresh squeezed grapefruit juice
1 oz pomegranate juice
4 oz (1/2 cup) Schilling & Company's Chai Cider
Garnish: thin grapefruit wedge
Fill a tall glass with ice. Measure in the rum, grapefruit and pomegranate juices. Top with cider and stir. Garnish with grapefruit.
Recipe by Kathy Casey Liquid Kitchen® for CIDERCRAFT Magazine.